VIDEO: What 20 Years Of Following Your Passion Looks Like
Sugarcube is a video series following people who have made their passion a lifestyle. Meet Damon Warren, an artist who lives and works in Venice, Ca.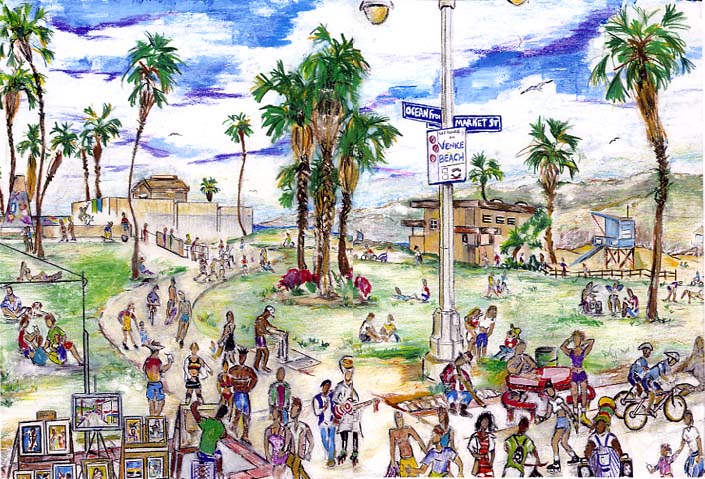 My friend had an eclectic piece of art hanging in the hallway of his Hollywood apartment. It was a piece he'd purchased from a Venice Beach street artist some nine or ten years ago. "I think he's still selling art out there," James (our filmmaker) said. We knew there must be a story to grab. While he wasn't the easiest person to track down, and certainly not the best person for making appointments – Damon Warren has a story we can all learn a little from.
Artists are a finicky collection of people marching to the beat of their own drum. A homemade drum. Meeting with and interviewing him was no easy task. We waited at his spot on the beach completely unsure if he would even show. Eventually, when he rolled up with his giant art-cart, he said, "Are you serious right now?" We were in.
While you may not spend the time to stop and take look at the art this man calls his life, his outgoing personality will grab your attention for at least a moment. What most people don't realize is that Damon is part of a small group of people who are passionate and motivated enough to turn the thing they love into a full-time job. He sets his life up on display on the boardwalk of Venice Beach, and has been for over twenty years.
Standing outside of Damon's gallery was an experience within itself. Getting to know "the guy", watching him greet and wave to people excitedly. Some people are just happy, and it's such a great feeling to spend a day with someone like that.
We asked Damon to interview him at home. He was reluctant at first, but after a series of back and forth trying to set something up, we finally got his address. As I mentioned, he didn't work on a schedule. So a couple of days later we showed up in the morning.
Getting to know Damon the person has been an incredible experience – you can see his contagious nature comes through in the interview. Letting us into his small 1 bedroom apartment where the walls were covered with art he's created over the years was exactly what we were hoping for as Damon opened up about his life. Forget about the fancy cars, big house, and material things. It's easy to put that aside when your passion is your full-time job… let me rephrase… it's easier (maybe not that easy). After all, isn't feeling fulfilled and happy all we really want?
It's easy to be inspired by someone like him, and you can learn more about him on his website: damonwarren.com.
Oh and by the way, if you're ever in Venice, California – tell Damon that we say hi.