Six Unlikely Places To Explore In 2015
Challenge: Pick a place from this list, and send it to a couple of your favorite people along with a date to go there next year. Have a great 2015!
All the photos were taken by the author.
#1 Canmore, Alberta
I can't even begin to explain how awesome this place is in the summer. Most people who visit the area go to nearby Banff, which is great in itself, but Canmore is where you should go. This place is an outdoor wonderland. You can go whitewater rafting, take endless scenic drives, go hiking, fishing, and more.
The big horned sheep looked up at me and said, "It's all about being in the right place at the right time."
Pro tip: For a very special occasion, there is a helicopter company called Alpine Helicopters that takes you up to see the Three Sisters Peaks, a 9,600 ft. mountain sitting above the Bow River. Though it's not the cheapest way to get around, they have discounts available, just mention The Jack Reynolds Special! There was a married couple taking off while we were there and we danced with them in our 14-city adventure video. It's kind of a life changing experience. 
#2 El Pescadero, Mexico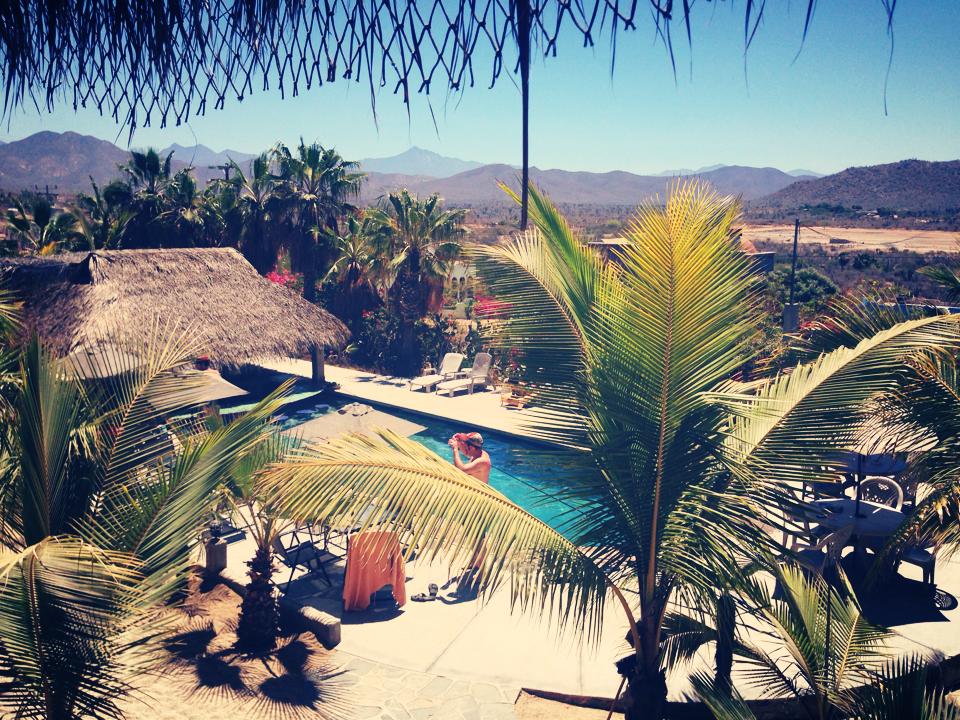 Back in April, I traveled to the Baja Peninsula on a whim with my friend Jake. We had no other plans except to find a few good places to surf. After a quick Google search when we arrived at the Los Cabos Airport, we found this place called Pescadero Surf Camp. While it was kind of a pain in the ass figuring out a way to get there due to our lack of preparation, we eventually found a little bus that took us straight there. It took about an hour and a half and was pretty fun.
Get on the bus that takes you to the bus station. From there, buy a ticket to El Pescadero. Have the bus driver drop you off at Km.64, then walk up the hill to the Surf Camp.
That's right, you literally ask the bus driver to stop on the side of the road at kilometer marker 64 and get out on the side of the highway. Jake and I met some of the most incredible people from all over the world there, and we all became a little family over those few days.
Pro tip: Pescadero Surf Camp is super affordable, but they only take cash. Be sure to get pesos in advance! Tell Jamie we said hello. That's pronounced "high may". This place is amazing year round.
#3 Telluride, Colorado
It has become a personal goal to visit Telluride once per year in the Fall. The most important thing to know about this place is that all the surrounding areas are insanely beautiful. From approximately September 15 to October 30th, you'll find one of the most amazing colored mountain foliage you've ever seen.
This is god's country.
There's a little something for everyone. It is home to the Telluride Bluegrass Festival, which is one of the largest of its kind. There's a Mushroom Festival and, needless to say, some of the best skiing and hiking in the country.
Pro tip: The Peaks Resort has a freaking indoor waterslide! That isn't the pro tip. The pro tip is that they don't monitor it very well, so you can go down backwards, face first, and scream. It is pricey, but the off-season has amazing deals. Also, Colorado locals get a significant discount. This is great for skiing during the winter and everything else during the summer.
#4 Catalina Island (California)
Catalina Island is thirty miles off the coast of Southern California. When it's not cloudy or smoggy, you can see it clearly from the mainland side. With a peak of over 2,000 ft, it jets out of the sea — it's sort of an anomaly.  I'm sure most people from the area probably have a stigma about it, as its main 'city' of Avalon is pretty touristy.
Catalina has golf carts everywhere instead of cars. It's like a mini world less than three square miles in size.
What to do there? There's everything from a submarine tour, to one of the largest zip-lines on the West coast, to amazing camping and hiking. I visited Catalina on the 14-city Adventure I wrote about here where we were able to experience the Zip-line, and it's totally worth it for the expansive views alone.
Pro tip: Take a helicopter there in fifteen minutes. Flying over the deep ocean and seeing the mountains jet out on a sunny day is nothing short of incredible. It isn't the cheapest way to get there, but for a special occasion, you can't beat it. The other option is the ferry, of course. This is great year round.
#5 Big Sur, California
When people hear about California, they usually think of San Francisco or Los Angeles right off the bat. Here's the thing – it's the third largest state in the U.S. This means that there's a lot to see. While "Big Sur" isn't very well defined, it refers to the 90~ mile stretch of coastal land going south from Monterey. You could drive it in a day, or you could spend your entire life there. There's really nothing specific about it I can mention; you just have to go there to see.
This is the way life goes in Big Sur. Waiting for the mail, watching the sea-lions in the surf or the freighters on the horizon, sitting in the tubs at Hot Springs, once in a while a bit of drink – and, most of the time, working at what ever it is that you came here to work on, whether it be painting, writing, gardening or the simple art of living your own life. – Hunter S. Thompson
The most important thing to know is to look for locally-owned accommodations on Google (and not on a major site like Priceline). If you're up for it, camping is even better (and way cheaper).
Pro tip: Stay at Limekiln State Park. It's like a magical forest from 'Alice in Wonderland' where fresh mountain-jungle water flows into the ocean. Also, it's way better if you can plan to go without any phone/internet access. This is a nice option year-round.
#6 Olympic Peninsula, Washington
This is hand-in-hand with #5, Big Sur. They are part of the Pacific Coast Highway (California Route 1) that stretches nearly the entire west coast. That said, Washington and the Olympic Peninsula have their own distinct take on the matter, very different from Big Sur. Its astonishing beauty, unbelievable changes in ocean tides, and rural charm will make your 2015 that much better.
I thought I'd have a quick stop at Ruby Beach and take a few pictures. I ended up sitting on the same rock for five hours, where I watched the most beautiful sunset I'd ever seen unfold in front of me.
The photo above was taken about fifteen minutes after the sun disappeared behind the ocean, and I wasn't even prepared for how amazing that truly was. The sand was a mirror of the sky, separated by a sliver of ocean over a hundred yards away. Notice the 'real' photographer taking a shot much closer to the water.
Pro tip: Spend more time on the peninsula than I did. I had literally done no research before I visited. I just borrowed a friend's car from Seattle and hit the road without knowing anything about the area. Go to Ruby Beach, and avoid the winter season.
The MOST Pro Tip:
All of the locations on this list are in the western region (except for maybe Telluride). Find a way to visit more than one during your travel. Remember the challenge: pick somewhere on this list right now, and share it with a friend with the intent of visiting it next year. Include a date, even if it's tentative.