I'm Alive is a series about traveling to 14 cities to film a two-and-a-half minute YouTube video. We spent 72 hours in each city. Seattle was the second stop, where we had a 72-hour adventure filming Sasquatch! in the middle of our 72-hour adventure.
This was a particularly unique stop because we had a prior engagement to film Sasquatch! Music Festival as part of Enormous: The Gorge Story, which is another Jack Reynolds original piece. We had two days to film Car2Go adventures, three days at The Gorge, and then two days back in Seattle to finish adventuring. It was easily one of the most action packed weeks I'd ever experienced. We really didn't have any idea what we were getting into, but we were really happy to be there.
We left Portland on a 58-minute propeller plane and landed in Seattle in the morning. After getting on the LINK train from the Airport towards downtown Seattle, we opted to jump out early and get a Car2Go from a little neighborhood by one of the stops. After a quick detour into some little foreign smokeshop-grocery-antique-business-front for water, we made an even bigger detour and headed toward Snoqualmie Falls and North Bend, WA. for some amazing footage. It's about a 45-minute drive east of Seattle into the mountains via I-90. I had become familiar with the area during other visits to Seattle. We captured a ton of good stuff in just a few hours.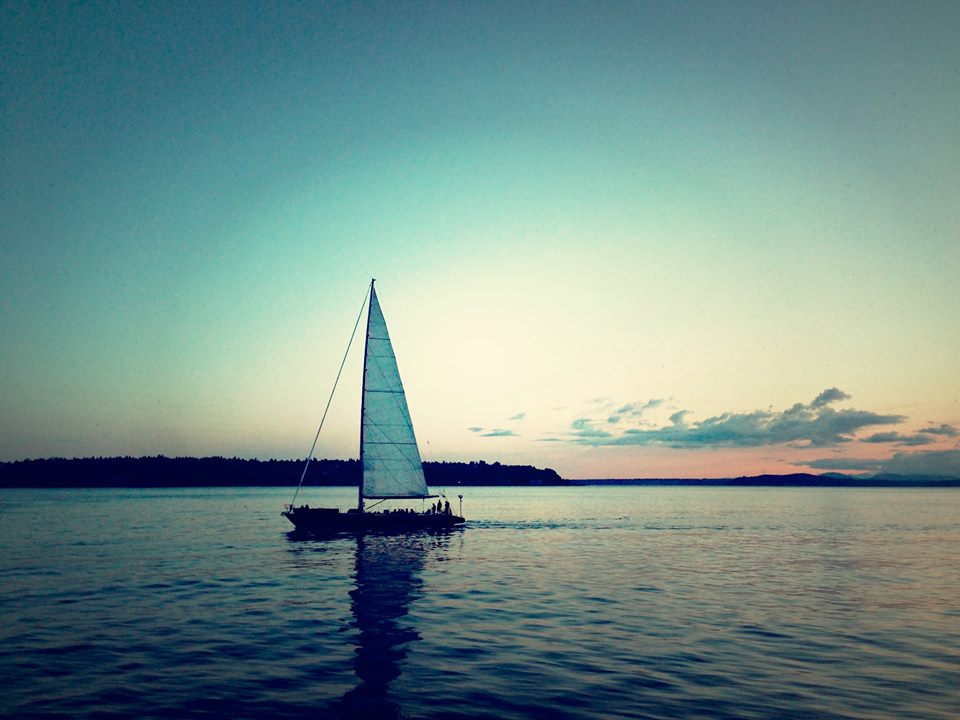 Places we stopped:
Once we made it back to Seattle, we had dinner at Salty's on Alki Beach, which has one of the best city skyline views I'd ever seen.
We took the 11:40pm ferry to stay with a friend on Vashon Island, which is always a treat. That said, I'm not sure how the islanders afford to take it daily, running ~$20 each way for a car and a passenger. We rode the ferry back and explored the waterfront, attached a GoPro to the ferris wheel, and got as much b-roll as possible the next morning. In the afternoon, things shifted to The Gorge project. We swapped the Car2Go out for a regular rental car, picked up our incredible cinematographer Jeff Hammerton, and headed back to Vashon Island for some prep work and relaxation before heading to Sasquatch! the next morning.
We were up and out again on the ferry around 8:30am (now $60~ in ferry rides) and on our way to George, Washington. It's roughly 150 miles each way and spans through the Snoqualmie Pass, so there is plenty of scenery along the way: lakes, trees, bridges, ski resorts, ranches, and little towns. We made it to the backstage entry gate at Sasquatch! in early afternoon, barely  leaving enough time to get setup. No one knew where to go, who to talk to, or what was allowed and what wasn't. I guess some level of absolute chaos is to be expected when there are ~30,000 people convening in one location to see 100 bands play. We were given an area to setup a couple of tents and park our car amongst hundreds of other artists and support staff.
The rest of the weekend was one of the most hectic and exhausting experiences of my life, but also one of the most amazing. We conducted full-length interviews with the principals behind The Gorge Amphitheater and heard how one of the most scenic concert destinations in the entire world really came about. Part of the story included the property owner, who was using it for a winery looking for music acts to attract customers from Seattle (remember, it's 150 miles away). Meanwhile, a famous Seattle concert promoter was flying over the Columbia River Gorge looking for the perfect spot to build an amphitheater.
We also interviewed and filmed performances from a number of amazing artists including Phantogram, Shakey Graves, Hozier, and Portugal. The Man. All of them were fun to be around and really interested in The Gorge's story and our part in bringing it to light. Being new to the music industry, I hadn't spent too much time backstage. It's amazing to see how hard everyone works to make their respective performances come together.
We explored, took time lapses, hung out with campers, and took in the whole thing. The full-length story is covered in the Enormous series. After that weekend, we ended up back in Seattle to continue our Car2Go adventures.
Upon our return to Seattle, we were exhausted, but amped for more experiences. I have this friend there named Lindsay who is always up for adventure. We gave her a ring and things started happening. With a couple of quick phone calls, we booked some time with Wanz, famous for singing the chorus to Macklemore's "Thrift Shop". The timing couldn't have been better. He wanted to show us the Macklemore exhibit at Seattle's EMP museum. As one of the most popular songs and music videos in recent history, it was on prominent display. Wanz was quite inspiring, kind, and adventurous. He rode around with us in a Car2Go, sang "Take On Me" in a cut-out with us, and gave a speech to a hundred elementary school children about never giving up — just an all around great guy.
Our experience over the next couple of days was pretty incredible. In addition to spontaneously organizing a 100+ person flash dance mob in front of the Space Needle, we managed to check out and film at a number of cool places:
Overall, Seattle was easily one of our favorite stops. It's a great city with tons to offer. We were, however, looking forward to leaving, as we had Amtrak tickets to ride the 5-hour coastal train from Seattle to Vancouver, BC., which was the next stop on our itinerary.