I'm Alive is a series about traveling to 14 cities to film a two-and-a-half minute YouTube video. We spent 72 hours in each city. In Minneapolis, we rode roller coasters all day, learned how to sail(ish), and drove a Car2Go on a sidewalk.
My friend Paul lives in a building located right on the Mississippi River in downtown Minneapolis. He was nice enough to let us crash there, which is where I took the feature photo for this story. Thanks Paul! Minneapolis kicked off with spending some time walking around the post-industrial area near the Stone Arch Bridge by the Saint Anthony Falls. As it turns out, the area has been almost entirely converted into cool stuff. There are ruins of old industrial plants, secret tunnels, warehouses, art museums, restaurants, and things I'm not sure about. In all, there is really too much to write about. In fair weather, it's a city that you can be comfortable being in without a plan. There's plenty to walk around and experience.
After taking care of the usual b-roll filming, coffee shop stop, and quick planning session, we headed to the Mall of America. There is no deeper meaning or message, only sugar coating. We paid $25 to ride indoor roller coasters until we couldn't anymore. We must have taken the log ride at least seven times, the Spongebob coaster six, and the Airbender three or four. The Spongebob coaster had a 100% vertical incline that brought you to the roof of the mall before dropping you. I recalled the line from skydiving, "WE HAVE A GOOD PARACHUTE!" as we shot the downside of the vertical incline. We managed to GoPro the entire thing and use it in the final cut.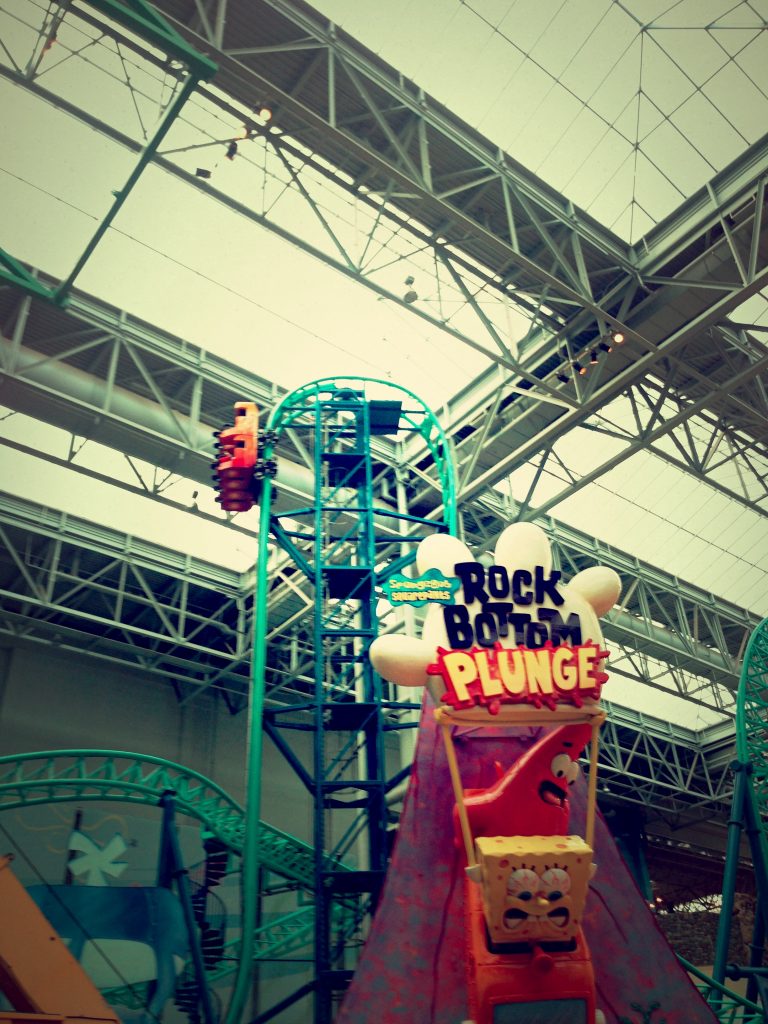 Yeah, it was pretty awesome. I sometimes wish my arms were as stretchy as his.
On a more serious note, we knew we were in 'the land of the lakes' and had a duty to experience it. So, we scoured the area in our Car2Go later, looking for the perfect place to get on the water. Paddle boarding was an easy option, but there isn't much adventure there. After being turned down for sailing/boating in a prior city, we knew we had our chance when we saw Bill Morton standing on a dock by a small sailboat. Nic asked him if he'd be willing to take us out on the lake. As it turns out, that's all Bill does. He takes anyone that is interested in sailing out on his own boat for free — you just have to sign a waiver. That is exactly what we did. Bill shared stories about his family and how he got sailing lessons as an undesired gift from his daughter one Christmas:
"When they bought me sailing lessons, I never thought I would like it. Now sailing is what I love to do the most."
He was one of the nicest people we encountered on our trip, and we couldn't thank him enough for taking us out that day.
Later, we found ourselves checking out The Minneapolis Sculpture Garden, where we encountered the famous 'cherry and spoon on a lake' exhibit. After getting consent from someone running a food cart, Nic opted to drive the Car2Go on the sidewalk in front of it. The footage in the final cut is exactly that, Nic driving a Car2Go in front of the spoon.
On our last stop before heading to the airport, we showed up at Historic Fort Snelling, where we insisted we drive the Car2Go through the castle gates and then dance with the reenactment crew to a snare drum. The latter was certainly featured in our flashmob-dance-mash-up scene in the video. In retrospect, I wish we'd had more time to dress up in costumes and interact with the tourists.
We had an amazing experience in Minneapolis and would love to go back. About six weeks in and our 12th+ commercial flight, we headed to Columbus, where they appeared to be building the city still.